Wheaton College, Illinois
Wheaton was established in 1860 by the anti-slavery activist, Jonathan Blanchard. Their campus covers 80 acres on the outskirts of Chicago. Their Liberal Arts courses are highly regarded and the university is known for its excellent teaching. The university is Christian non-denominational.
Davidson, North Carolina
Davidson is loosely affiliated to the Presbyterian Church but is open to all denominations and has a more secular feel than other US Christian colleges. The college was founded in 1837. It was ranked 9th in the list of Best Liberal Arts Colleges in the US by U.S.News and Newsweek named them one of the most academically rigorous.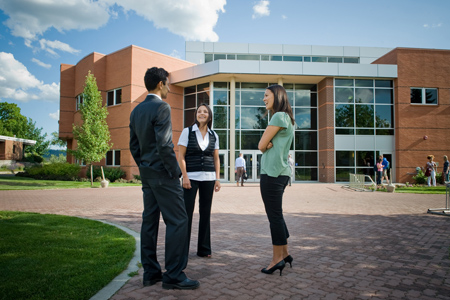 Lafayette, Easton, Pennsylvania
Lafayette is a Presbyterian affiliated college with an impressive graduation rate of 91%. This is a small college located half way between NYC and Philadelphia. Almost all the students are required to live on campus and there is a close-knit campus community with more than 200 student organizations, fraternities and sororities. As with "regular" colleges the students represent a wide range of faiths and beliefs.
Emory University, Atlanta, Georgia
Emory is a Methodist affiliated college and a research university ranked highly in the list of "Best National Universities" by U.S.News and World Report. The academic staff is known for their high standards and includes Nobel and Pulitzer winners.
St. Olaf College, Northfield, Minnesota
This university is affiliated with the Evangelical Lutheran Church and is proud of its Scandinavian roots. It is one of the best Christian liberal arts colleges with students favoring medical, physical and social sciences. All students are required to take at least two courses on Christian theology. There are over 150 clubs and student organizations for various Christian denominations.
Mount Vernon Nazarene University
A lot of the emphasis at this campus is on community and strong ties between the students. Students are required to uphold the campus lifestyle guidelines. There are over 50 student-led organizations and 80 undergraduate subjects to choose from. They have the inspiring motto of "Life Changing" written beneath their college logo.
Briar Cliff University, Sioux City, Iowa
Briar Cliff is one of 262 Catholic higher education institutes in the USA. They rank among the best colleges in the Midwest. Briar Cliff is a Franciscan institute known for its research and internship programs. Among the many subjects offered are Business Administration and Nursing.
These colleges offer a place where faith is nurtured and where the atmosphere and conforms to Christian values. In addition to the respect of Christian values these colleges offer a high standard of academic education.